Tiger
[ Home ]
[ Up ]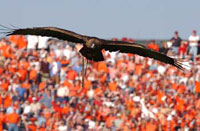 Auburn University's icon, War Eagle, VI, has won a place in the hearts of college football fans across the country, as she gracefully soars onto the field before each home game. This Auburn tradition developed in 2000 when War Eagle VI, nicknamed Tiger, flew initially from the goal post, and then moved to the upper deck where she made magnificent flights around the field.
Tiger's role is to help promote wildlife conservation as a part of the conservation education efforts of the Raptor Center, where she is housed by permission of the U.S. Fish and Wildlife Service, the federal agency responsible for protecting fish, wildlife, and plants and their habitats for the continuing benefit of the American people. Tiger was rescued in the mid-1980s by the Fish and Wildlife Service from an illegal breeding operation in Missouri.
Birds of prey such as Tiger are among the most popular forms of wildlife in the world. They symbolize strength and courage as well as other important values, such as freedom, heritage and the preservation of our natural environment. With this charismatic quality, they can be used as flagship species to focus attention on the need for wildlife research and conservation.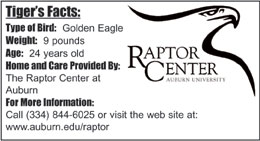 Auburn's Raptor Center
Almost 30 years ago, a group from Auburn's College of Veterinary Medicine began an intensive effort to treat and rehabilitate raptor populations, which led to the creation of the Raptor Center. The Raptor Center's mission is to conserve birds of prey and natural systems through education, rehabilitation and research. Educational programs are provided by the Raptor Center throughout the Southeast on topics such as habitat destruction, endangered species, water quality, and raptor issues. Educational programs that feature raptors in flight are presented to school groups, conservation societies and at various public events to spread the word about wildlife conservation.
Currently, the Raptor Center treats about 500 birds of prey annually, including bald eagles, golden eagles, peregrine falcons, great horned owls, red-tailed hawks, and many other species. The center has also earned national recognition from the National Wildlife Rehabilitators Association for award-winning research in raptor biomedicine and for rehabilitation and environmental education efforts.
Perhaps the biggest recognition the Raptor Center has received was during the Opening Ceremonies of the 2002 Winter Olympics in Salt Lake City, where Tiger flew across the ice in front of thousands in the stadium and billions of viewers worldwide. After her outstanding performance, Tiger was also featured on NBC's Today Show.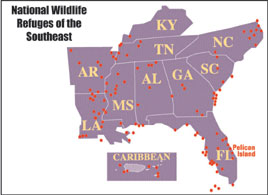 Threats to Raptors
Raptors have proven sensitive to many forms of environmental change, such as chemical pollution and habitat degradation. Because of this sensitivity, raptor communities serve as an early warning system, or indicators, for environmental pollution and other change.
As predators, raptors also have been extensively killed to protect game and livestock, so that numbers in some areas may still be well below the level that contemporary landscapes can support. Other than minimizing the use of chemicals which can harm raptors and their reproductive cycle, protecting natural landscapes is the most important thing we can do to protect raptors like Tiger for future generations.

100 Years of Conservation
Tiger's role as a steward for conservation is especially significant as we near March 14, 2003, which marks the Centennial of the National Wildlife Refuge System. With nearly 540 national wildlife refuges and encompassing nearly 95 million acres, the National Wildlife Refuge System is the only system of federal lands dedicated primarily to the protection of fish and wildlife. The system was established in 1903 when President Theodore Roosevelt ordered that Pelican Island, a 5-acre island along the east coast of Florida and one of the last breeding grounds for brown pelicans, be federally protected. Today refuges protect some of our nation's most pristine and unique fish and wildlife habitats. National wildlife refuges play an important role by protecting natural habitats for raptors like Tiger.
More than 120 national wildlife refuges can be found in the southeastern United States. Alabama is home to nine national wildlife refuges which protect more than 58,000 acres of fish and wildlife habitat and Georgia has 10 national wildlife refuges protecting more than 480,000 acres.
For more information about the National Wildlife Refuge System and refuges near you, visit http://southeast.fws.gov.