War Eagle: Fact or Fable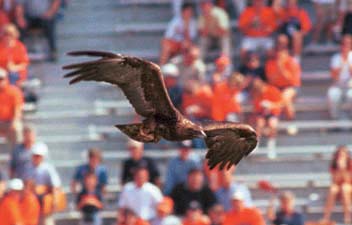 Whenever Auburn people gather, the battle cry "Warrrrrrr Eagle!" is almost certain to be heard. Although little is actually known about how the battle cry originated, it has been a part of Auburnís spirit for more than 100 years. Since the first War Eagle, there have been five other birds throughout Auburnís history which have served as the schoolís symbol and kept alive the legendary battle cry.
The first War Eagle, according to legend, died the same day it inspired Auburn students to yell its name -- 1892 in Atlantaís Piedmont Park when Auburn played Georgia in the Deep Southís first football game. In 1932, a group of Auburn people got together and bought a second eagle from a farmer for $10. Due to economic problems caused by the Great Depression, however, the group could not afford to feed the bird and was forced to give it away to a carnival that was passing through town.
Tigerís Facts:
Type of Bird: Golden Eagle
Weight: 11 pounds
Age: 22 years old
Home: Hamer Aviary on Auburnís campus and Southeastern Raptor Rehabilitation Center at Auburn Universityís College of Veterinary Medicine.
Care Provided By: Southeastern Raptor Rehabilitation Center
Tigerís Mission: Conservation and Environmental Education
Nearly 30 years later, in 1960, Auburn received a wounded eagle from Dr. Dell Hill of Talladega, Ala. An Auburn architecture student, Jon Bowden, took care of War Eagle III for a few months but eventually gave him to another student, Elwyn Hamer. Hamer was a member of the Alpha Phi Omega fraternity at the time and ever since that day, the brothers of that fraternity have helped take care of the Auburn eagles. Hamer would later be honored by having the aviary, which is one of the homes for the bird, named for him.
During the week prior to Auburnís game against Alabama in 1964, War Eagle III broke free and landed in a nearby backyard. The owner of the property shot and killed the eagle claiming it was attacking his children.
The following year, 1965, the City of Birmingham acquired an eagle from the Jackson, Miss., zoo and gave it to Auburn. War Eagle IV would enjoy a reign of 15 years.
War Eagle V arrived in Auburn March 3, 1981 from Wyoming. After examination and observation at the College of Veterinary Medicine, the two-year-old immature golden ealge was presented to the university on A-Day, May 9, 1981. She died Sept. 4, 1986 after suffering a ruptured spleen.
Her successor, War Eagle VI, was located at the TVA Raptor Rehabilitation Facility at Land Between the Lakes, Ky., but she was born in St. Louis, Mo. War Eagle VI, which is named Tiger as were her predecessors, arrived in Auburn, Oct. 8, 1986 at the approximate age of six-years-old.
The female golden eagle weighs 11 pounds and has a wingspan of seven feet. War Eagle VI has talons that can squeeze down with a grip of 450 pounds per square inch. To put it into perspective, the average person has a grip of 20 pounds per square inch.
In 2000, the Southeastern Raptor Rehabilitation Center took over the primary care of War Eagle VI. Alpha Phi Omega, a non-profit service fraternity, provided care for the bird for 41 years and several members of the fraternity have been trained at the Southeastern Raptor Rehabilitation Center.
Tiger, who belongs to the U.S. Fish and Wildlife Service, lives at both the Southeastern Raptor Rehabilitation Center and the campus aviary next to Jordan-Hare Stadium. Beginning with the 2000 season, Tiger will not be perched on the sideline for the entire football game. She will make appearances before and during games.
In addition to appearing at Auburn athletic events, Tiger makes numerous public appearances each year including visits to schools promoting conservation education about eagles and other endangered species.